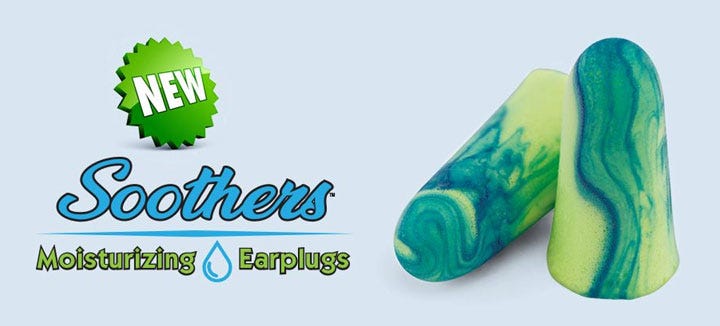 Ear protection is part of the daily uniform for many jobs in construction and industry. Working in a loud environment is risky for the health of your ears, especially for workers who are exposed to noise hazards regularly for long periods of time.
Disposable earplugs are a popular solution for reducing noise hazards in loud work environments. However, using earplugs day in and day out can lead to dry, irritated ears: inserting and removing foam from your ear canals multiple times a day can affect the levels of natural oil and wax in your ears.
That's why Moldex developed Soothers, the only moisturizing earplugs on the market. Soothers hydrating technology keeps your ear canals moisturized all day for comfort, preventing dryness while letting your ears retain their natural oils.
Soothers have an independently tested NRR 33 rating. The disposable plugs are ideal for work in noisy environments where ear protection is required all day for safety.
Soothers, like all Moldex earplugs, are made in the USA and are PVC free. (PVC is found in most foam earplugs, and can be toxic to the health of individuals and the environment.) They're made of soft, low pressure foam with a smooth, non-irritating surface and are tapered for a comfortable fit.
Soothers are tested to the ISO 10993 Standard for Cytotoxicity and Primary Skin Irritation and have been determined to be hypoallergenic.